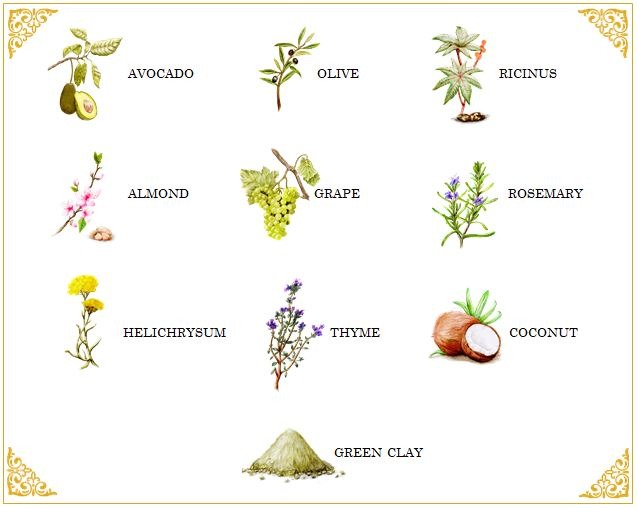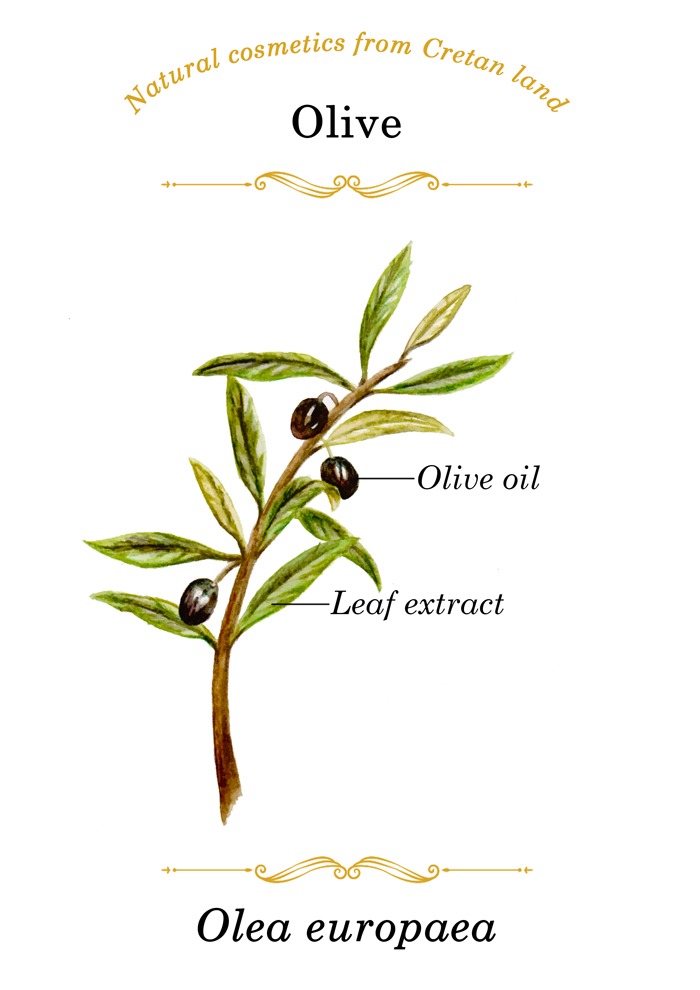 Olive oil nourishing      
Properties: Exhibits nourishing, emollient and reconstructive properties and is effectively used to restore dry skin. Thanks to its composition rich in oleic and linoleic acid, olive oil softens the skin, restores the radiance and elasticity and protects against premature aging.
Active substances: Oleic, linoleic, palmitic and stearic acid. Also, squalene, polyphenols and vitamins A, D, E and Κ.
Olive leaf extract antioxidant    
Properties: Olive leaf extract is known for its beneficial properties, which are mainly attributed to the containing phenolic compounds. Rich in oleuropein, olive leaf extract has a strong antioxidant effect, thus creating a shield against free radicals and oxidative stress. Moreover, it is a natural ingredient usually chosen for fresh and radiant skin.
Active substances: Oleuropein, hydroxytyrosol, apigenin-7-glucoside, luteolin-7-glucoside.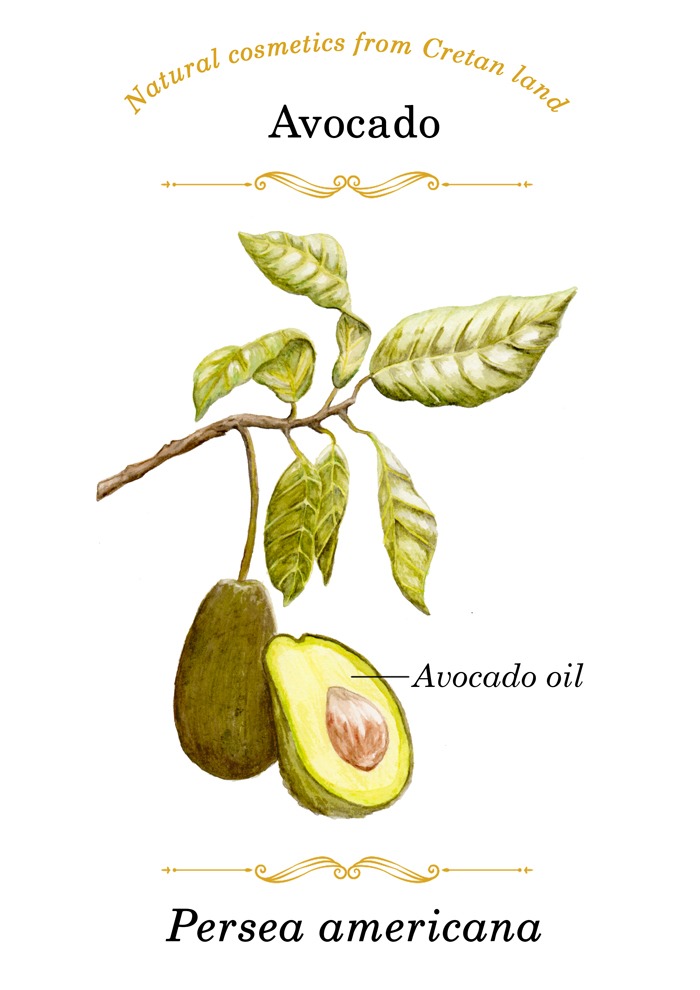 Avocado oil cell regenerating      
Properties: Rich in beneficial fatty acids, avocado oil has nourishing, emollient and healing properties. Thanks to the special complex of vitamins, it contributes drastically in restoring dull and dry skin. Moreover, skin treatment using avocado oil leads to activation of cell regeneration mechanisms, helping by this way in skin rejuvenation.
Active substances: Oleic, palmitic and linoleic acid. Also, lecithin and vitamins Α, Β1, Β2, D and E.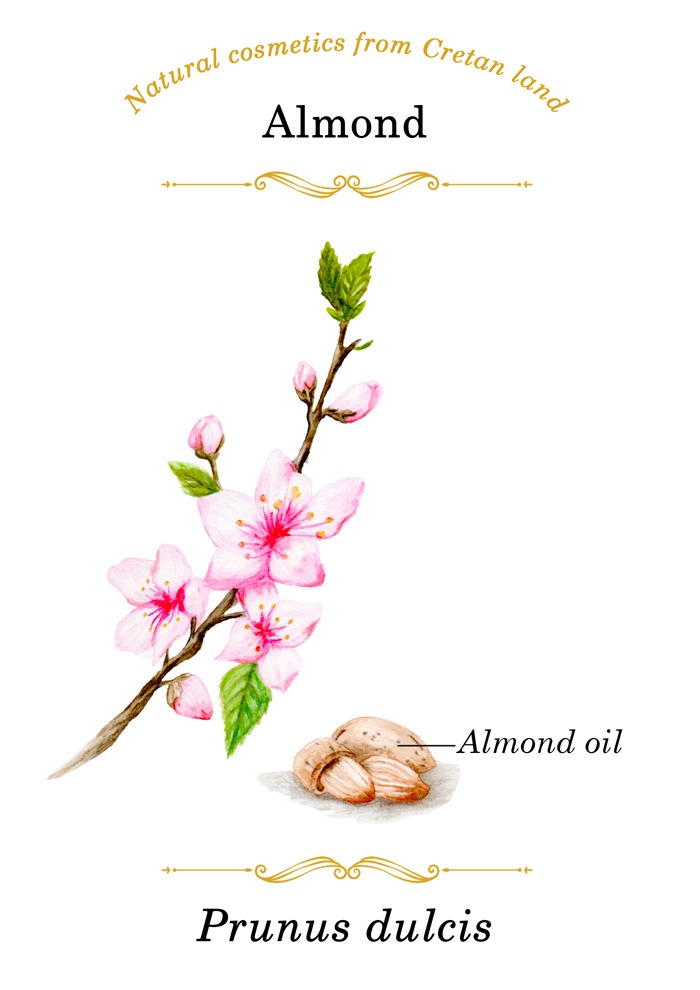 Almond oil reduces stretch marks      
Properties: Due to its high content in vitamins A, B and E, almond oil exhibits admirable nourishing and reconstructive action. Among its exceptional properties stand out the ability to improve skin texture and help maintain natural moisture and elasticity levels. Almond oil, with its fine texture, has been selected since antiquity as the most favored oil for reducing wrinkles and stretch marks.
Active substances: Oleic, linoleic, palmitic and stearic acid. Also, trace elements and vitamins Α, B and E.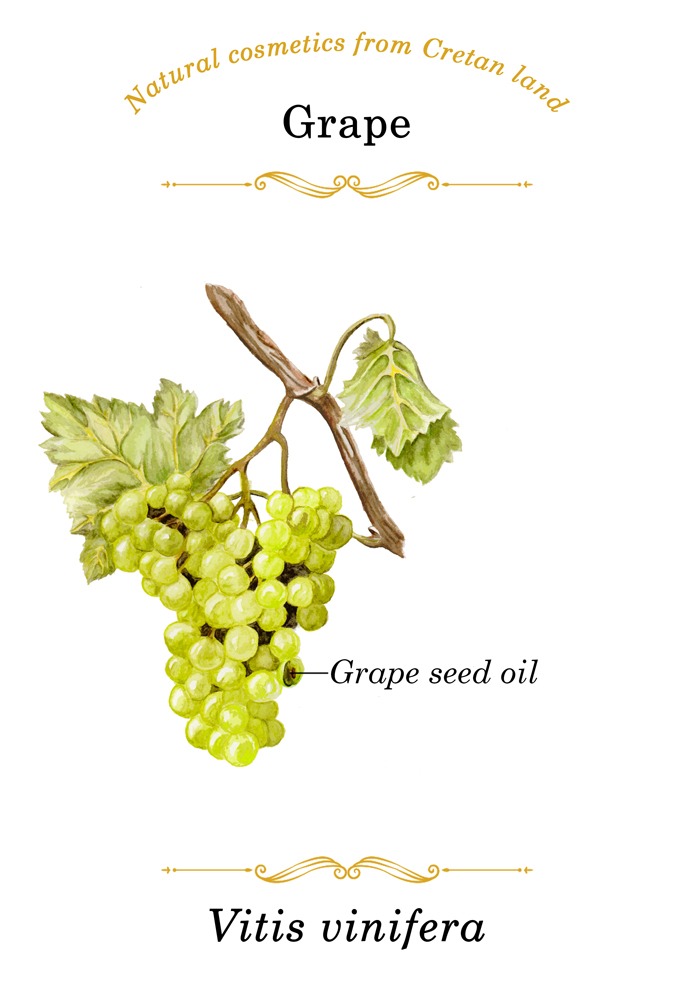 Grape seed oil anti-aging      
Properties: Grape seed oil appears to have skin regenerative properties, as it promotes collagen production. Due to the amounts of resveratrol containing, this precious oil exhibits healing, antimicrobial and tonic properties.
Moreover, a blend of powerful antioxidants found in its composition, render grape seed oil ideal for protection against free radicals and other aging factors.
Active substances: Resveratrol, catechins, epicatechins, vitamin E, procyanidin Β1, linoleic and oleic acid.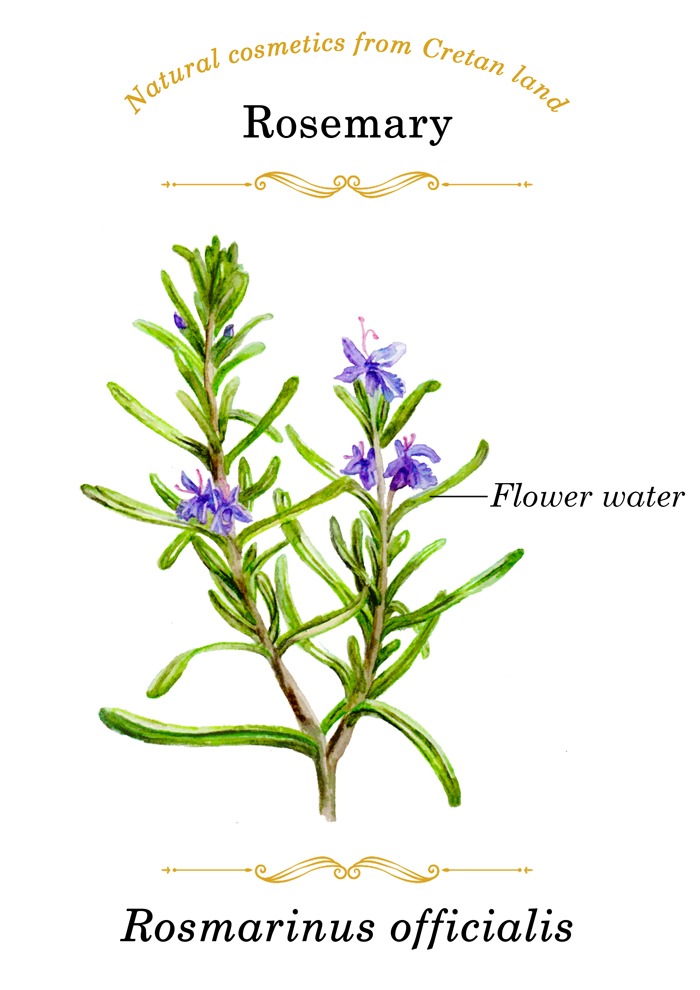 Rosemary flower water toning      
Properties: Rosemary flower water is obtained by carefully collecting the water vapor during the distillation process of the essential oil production. Through this procedure, the precious volatile compounds released from the essential oil are collected, giving to rosemary flower water its tonic, antiseptic and anti-inflammatory action. Furthermore, rosemary flower water acts as an ideal oil regulator and helps restoring skin's freshness and radiance.
Active substances: Cineole, borneol, pinene and camphene.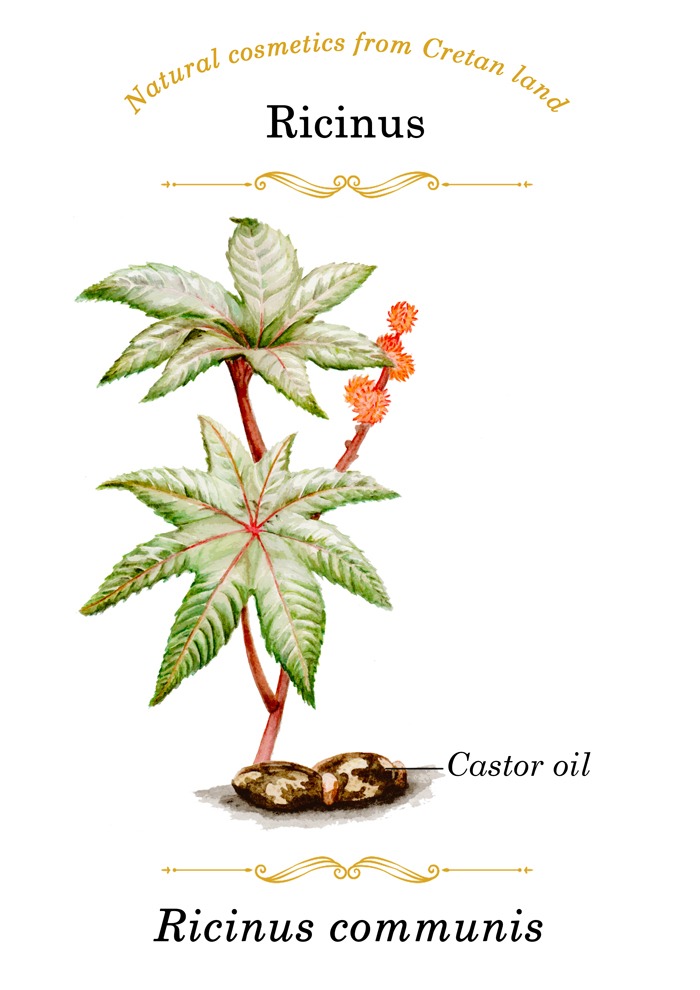 Castor oil hair strengthening      
Properties: Rich oil with smooth texture, castor oil attributes its emollient and antioxidant properties to the high content of ricinoleic acid. Moreover, its special composition renders castor oil capable to bind and remove unwanted substances from skin epidermis, thus appearing as an ideal natural alternative for makeup removal. In fact, due to its powerful hair strengthening effect, it appears as a popular natural ingredient for achieving charming thick and long lashes.
Active substances: Ricinoleic acid, linoleic, oleic and stearic acid, as well as vitamin E.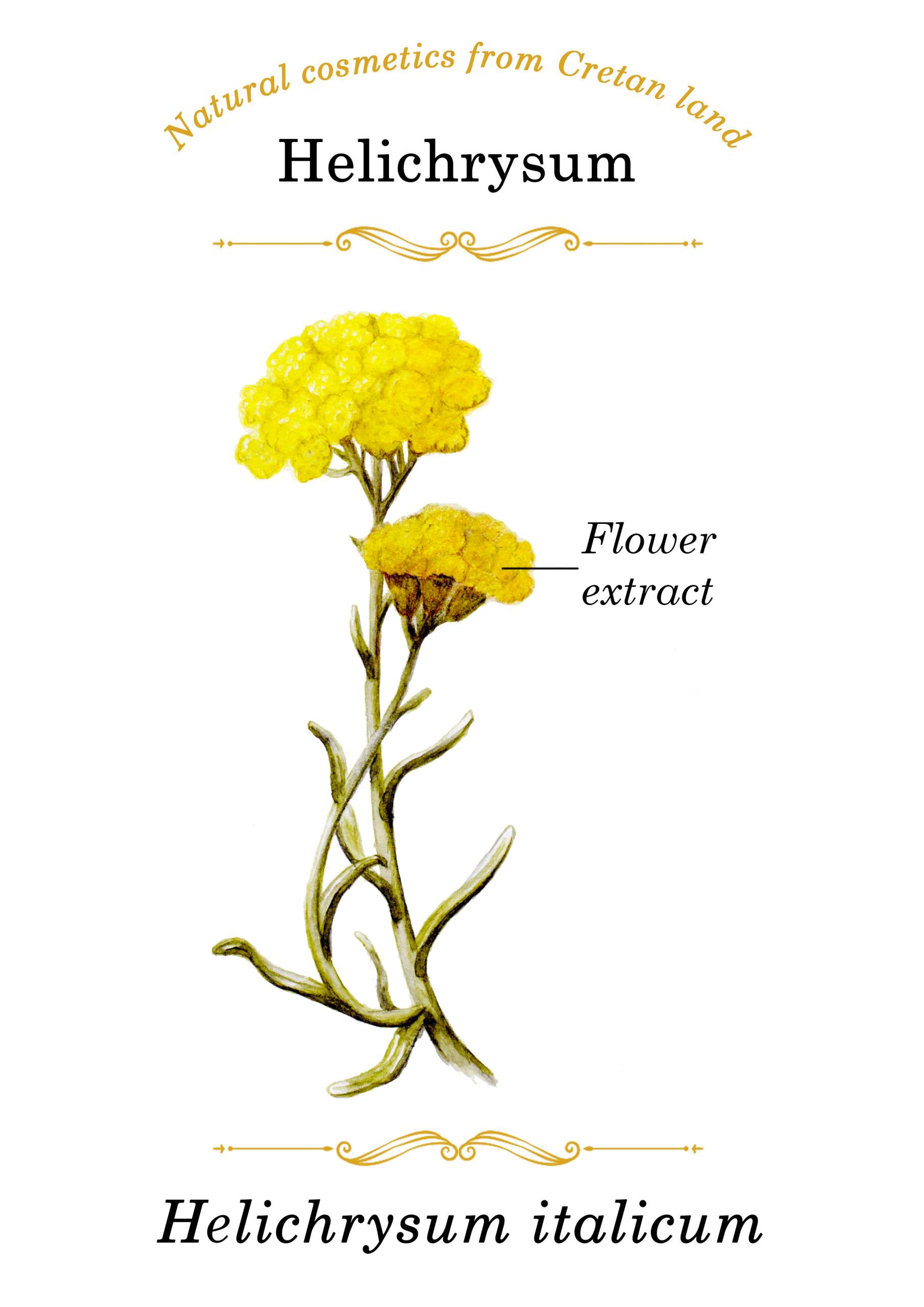 Helichrysum Eternal Youth      
Properties: Helichrysum, also known as "The plant of Eternal Youth",exhibits extraordinary anti-aging properties. Rich in flavonoids and phenylpropanoids, the flower extract contributes in the regeneration and reconnection of damaged skin cells, reduces wrinkles and fine lines and protects from free radicals. A miracle of Nature, which brings back the vitality and radiance of young skin!
Active substances: Flavonoids, phenolpropanoids.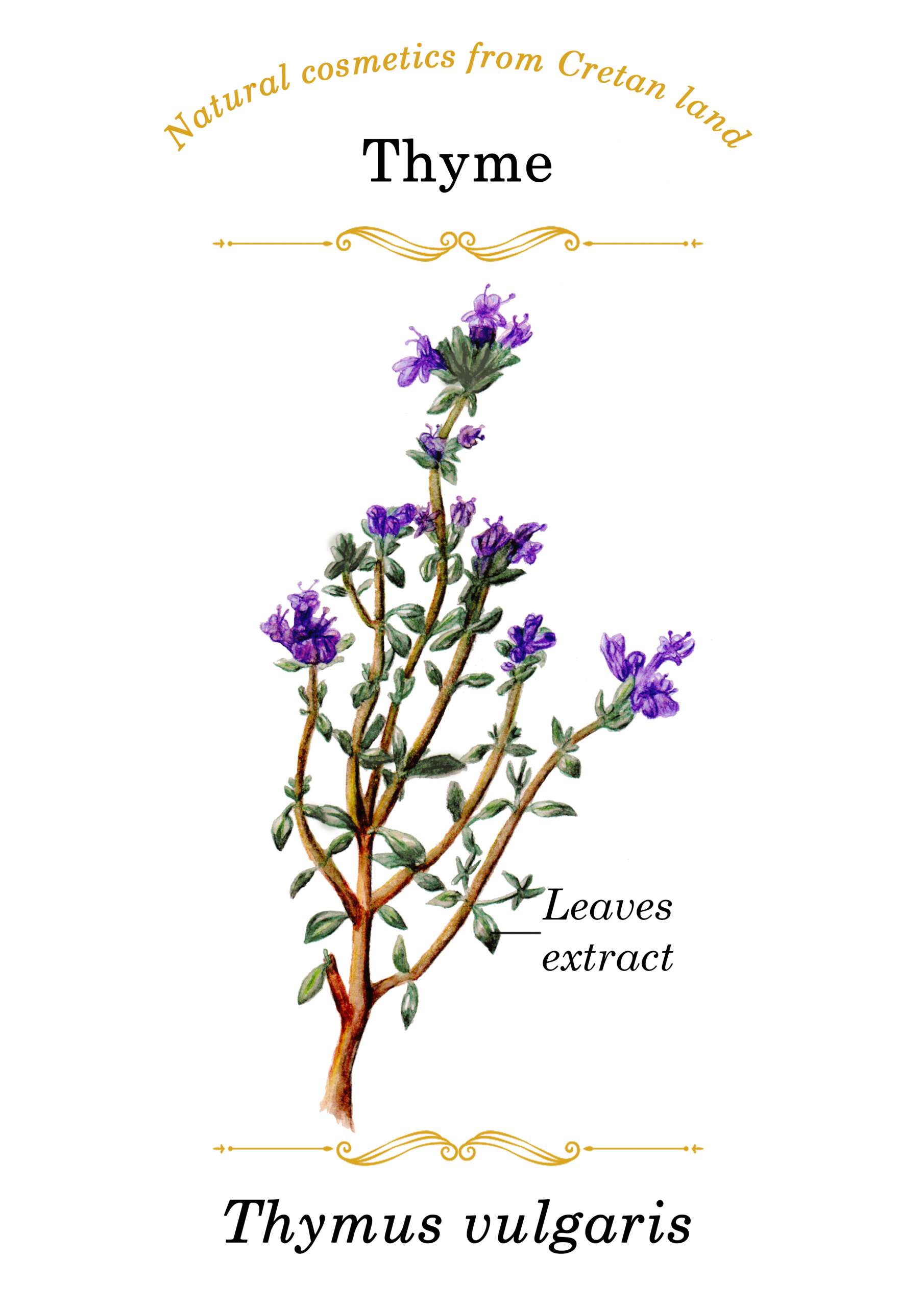 Thyme antimicrobial      
Properties: Thyme is a herb used since antiquity for its healing, anti-inflammatory and antiseptic properties. Thanks to its powerful antifungal, antibacterial and antiviral properties, protects the skin efficiently from related infections. Containing significant levels of thymol and carvacrol, thyme leaf extract is ideal for gently healing and soothing of irritated skin, as well as relief of itchiness. Moreover, its antioxidant properties can slow down aging processes and improve skin texture and tone.
Active substances: Thymol and carvacrol.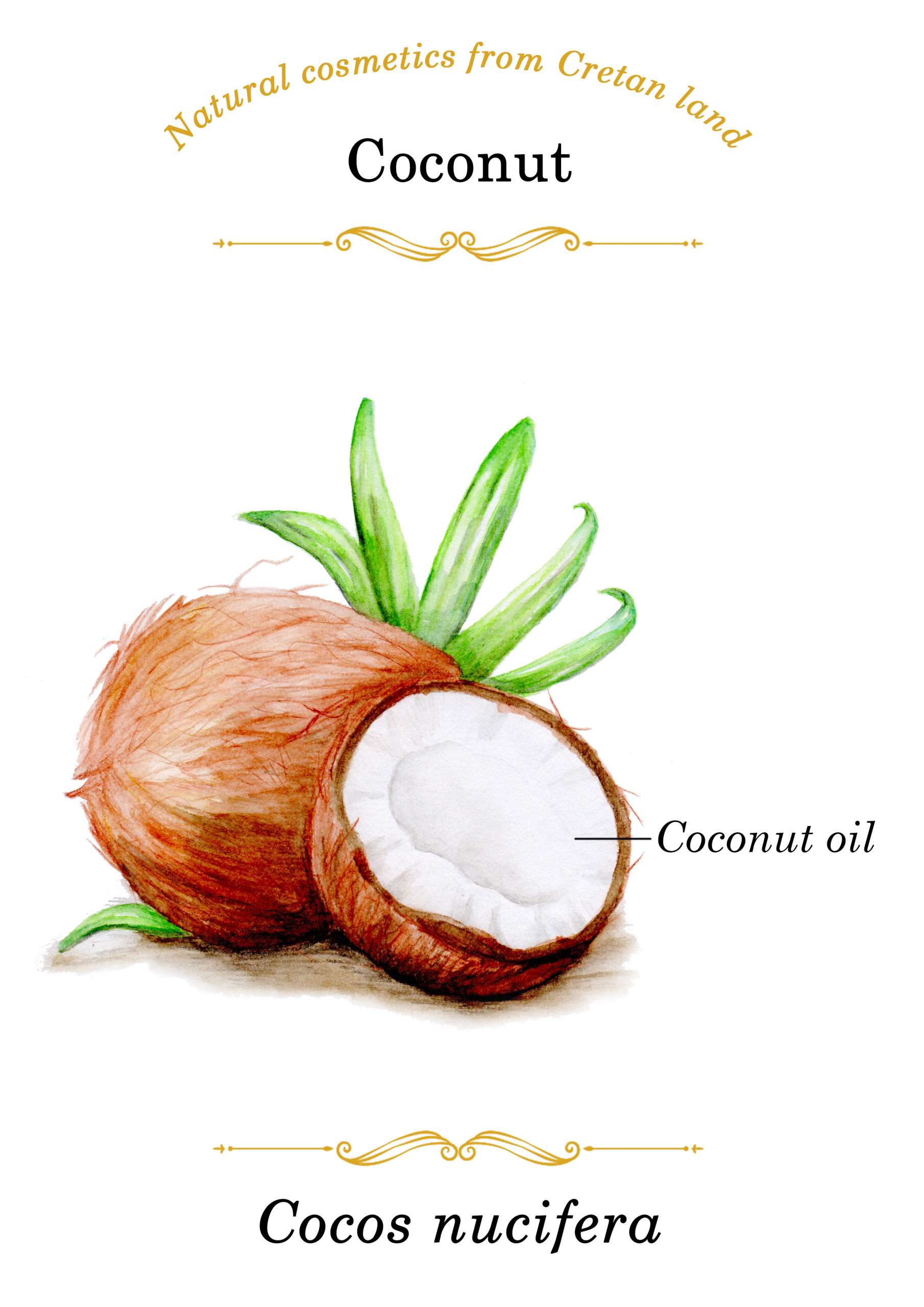 Coconut oil emolient      
Properties: Coconut oil is one of the most attractive natural ingredients in Cosmetology, as it direct nourishes and softens the skin. Rich in fatty acids and antioxidants, it exhibits protecting, emollient and moisturizing properties and is effectively used to treat dry and dull skin. Coconut oils is also appreciated for hair care, as it reduces breakage, strengthens and gives long, sleek and shiny hair.
Active substances: Lauric, myristic, palmitic, decanoic, oleic and caprylic, as well as Vitamins E and Κ..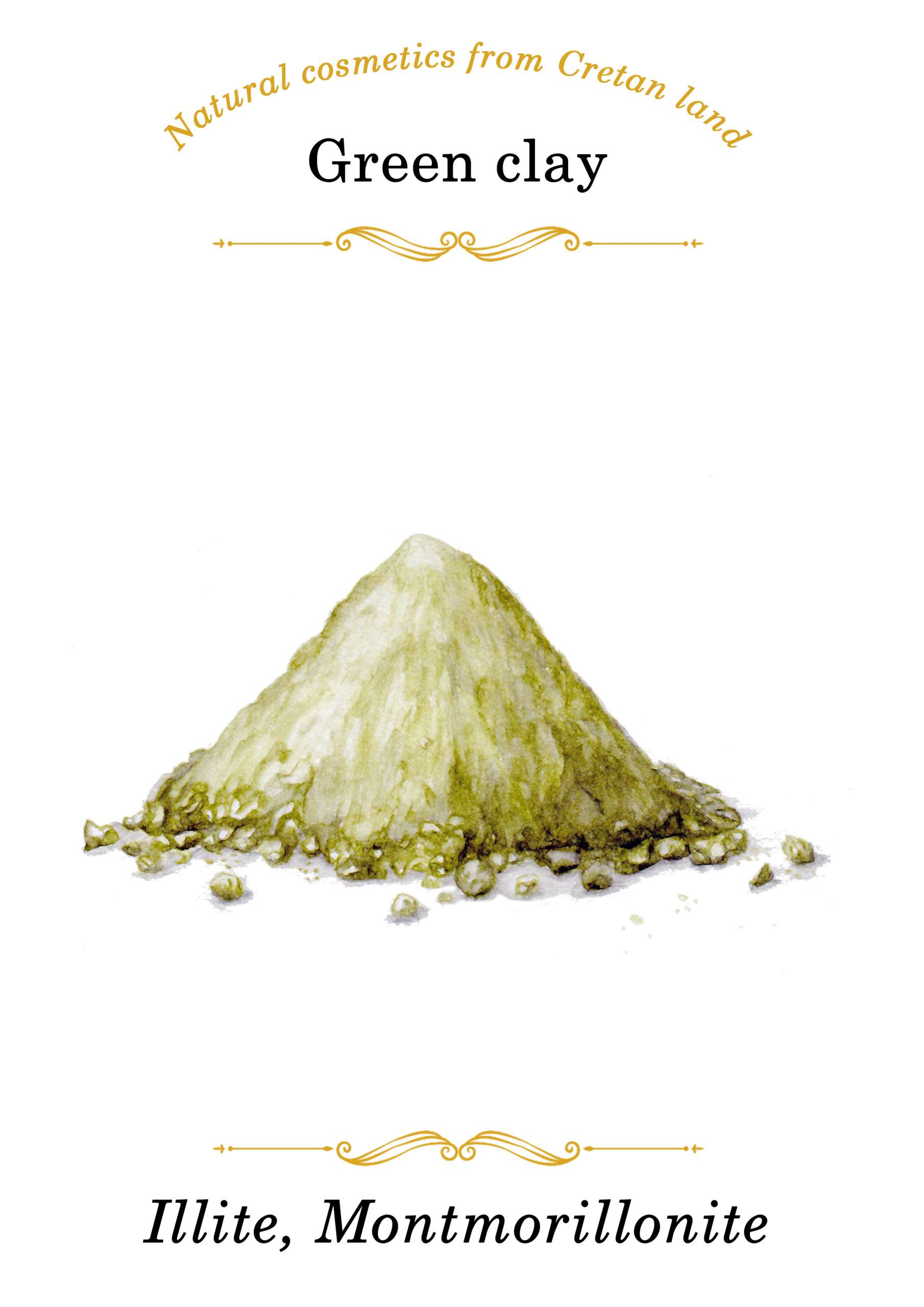 Green clay detoxifying      
Properties: Green clay is a fine-powder mineral, which is formed naturally near rivers or rocky landscapes. Its known beneficial and healing properties are attributed to the high concentration of precious minerals that contains. Green clay has the ability to absorb substances such as sebum excess, toxins and impurities from skin epidermis, and thus is ideal for unclogging the pores, leaving the skin clean, fresh and radiant.
Active substances: Magnesium, iron, calcium, potassium, copper, dolomite, phosphorus and selenium.